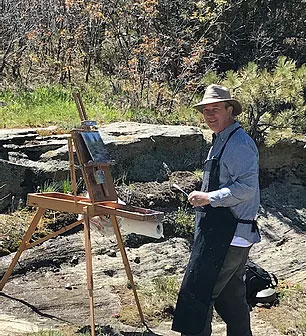 Matthew Arons
Painting
Matthew C. Arons is a self taught artist who grew up in Colorado. His appreciation of nature began as a child when he attended summer camps on the edge of Rocky Mountain National Park. As he grew up he continued hiking, camping and exploring the spectacular scenery of the Colorado mountains.
Over the years, Matthew has taken classes and workshops by the artists he admires but he feels that his greatest moments of discovery have come while observing nature firsthand. Matthew often chooses subjects within a few hours or minutes of his home in Castle Rock, Colorado. Matthew is a member of the Art Students League of Denver, the Roxborough Arts Council, and the Parker Artists Guild.
Matthew lives in Castle Rock, Colorado with his wife Lisa. They are the proud parents of seven wonderful children. As a firm believer in Jesus, Matthew strives to give glory to God in his life and his work. He sees the scenery he paints as part of God's creation, showing us aspects of God's nature.
Websites: matthewcarons.com
Email: [email protected]
Phone: 720-635-2505
Example Work
(Click to enlarge)