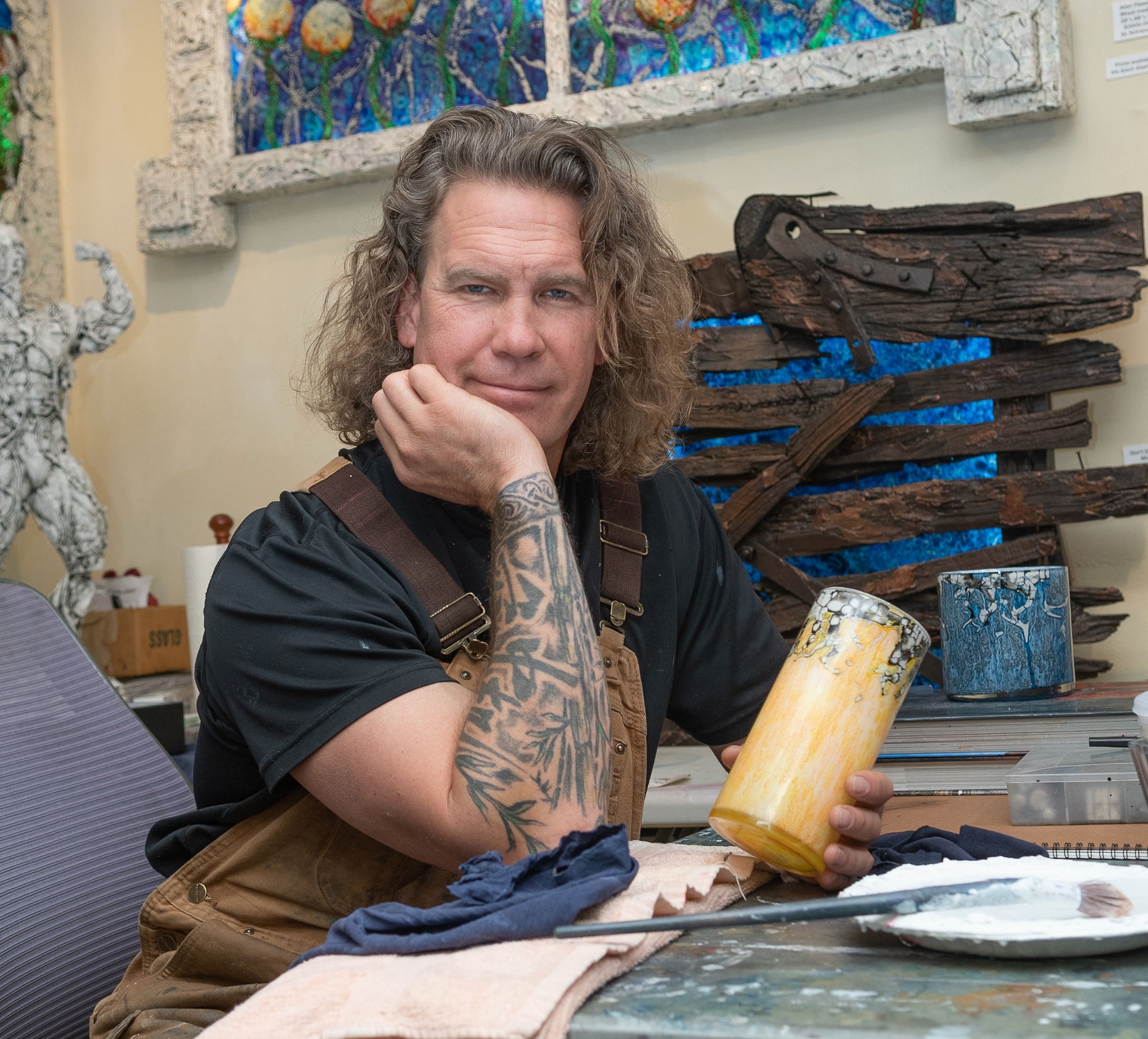 Christopher J. Schranck
Glass
The main focus of my wall sculptures, paintings and drawings is to present art in contrasting geometric and organic shapes, forms and textures while being aware of and working in a busy format with the intention of eliminating a central focal point. The elimination of a focal point leads the Viewer's eye throughout the entire work. The effect is to captivate the viewer, inviting him to look closer into the piece while forming his own interpretation. In addition, much of my work is left untitled or with having vague titles allowing open interpretation without prejudice.
Inspiration for my imagery is derived both from my imagination and by artistically abstracting the world around me. After contemplating my vision of a piece for a period of a week to a month, the work process then begins. Through sketching, exploring and pushing artistic boundaries, I discover how I want my work to evolve. The contrast in my paintings and drawings originate from many sources: a textured surface versus a smooth surface, warm colors verse cool colors, bright vivid primary and secondary colors verse organic earth colors and geometric shapes verse organic shapes. These contrasts are repeated throughout the art work creating balance, rhythm and harmony.
An important facet of my art is the design of depth and ambiguous space. This is achieved through the overlapping of shapes with many layers of paints and glazes, as well as the use of warm light colors for the background and cool dark colors for the foreground. Creating a smooth background contrasted by robust textures in the foreground also lends to the creation of a sense of depth. This reverse spatiality of traditional warm and cool colors works especially well due to the overlapping of contrasting shapes and textures.
I create a story in my wall sculptures and each of the pieces contains objects of personal history. I also walk the alleys of Denver in search of some of those unique objects which allow me to complete the next piece. Sculptures evolve from my being selective in how objects are incorporated into my work. I remain concerned with depth and ambiguous space throughout the evolution of my art as I detail each piece with heavy texture surfaces that are produced by using acrylic mediums, oil and found objects.
Nature is my biggest influence in my art and I love to observe how nature takes back man made objects. Beyond my own life experiences and imagination, artist and music have also been a means of influence and inspiration for me: Dale Chihuly's blown glass projects and installations, Marc Chagall's color and Pablo Picasso's cubism, Jackson Pollock's drip painting and finally the surrealism of Salvador Dali.
Websites: christopher-schranck.pixels.com
Email: [email protected]
Phone: (303) 995-2039
Instagram: @chrisschranck
Facebook: facebook.com/ArtWorkByChrisSchranck
Example Work
(Click to enlarge)