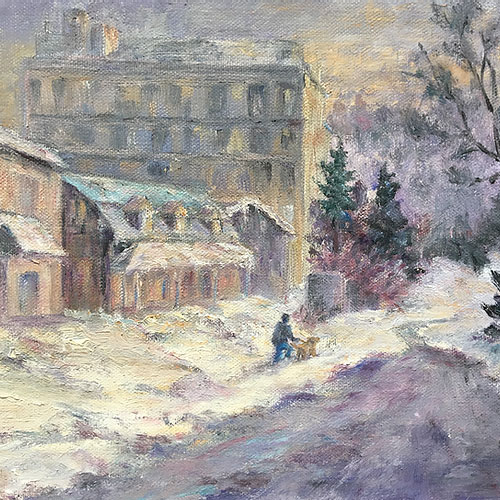 Karen Kennedy
Fine Art | Painting
Karen Kennedy captures "Expressive Realism" by revealing her sensitive insights into the character of her subjects through color and lighting choices which are balanced with a realistic treatment that blurs the line between Realism and Expressionism. Karen's pieces engage your awareness of her passion for painting magical colors and atmosphere. Whether landscapes, animals or portraits, the supple brush strokes and rhythm of shapes create an intimate charm indicative in all her artworks.
Training under four professional artists in Missouri who openly mentored and shared their knowledge, techniques and experiences helped Karen advance to teaching and winning recognition in exhibitions in Missouri and Colorado. Travel also contributes to Karen's perspective, inspiration and art education. Karen has studied art across the world, including Paris, Quebec City, New York and Washington D.C.
Residing in the art mecca near the foothills of the Colorado mountains, Karen is fully immersed in painting in various mediums, sketching and art studies. Karen's work has not only been in countless exhibitions, but she has also juried with other high-profile artists for several exhibitions. Additionally, Karen manages a gallery in Littleton, Colorado, and has been President and an active board member of the non-profit Roxborough Arts Council for 11 years. "I find joy in painting my inspirations, sharing knowledge and experience with other artists, and learning what fascinates the gallery patrons," says Karen.
Websites: karenkennedyart.com/
Email: [email protected]
Example Work
(Click to enlarge)