Event Date: 1/24/2022 – 2/7/2022
Event Location: ROX Arts Gallery (Aspen Grove Shopping Center)
January 24, 2022 – Kits available at ROX Arts Gallery, collection of letters/cards begins
February 7, 2022 – Collection of letters/cards concludes end of day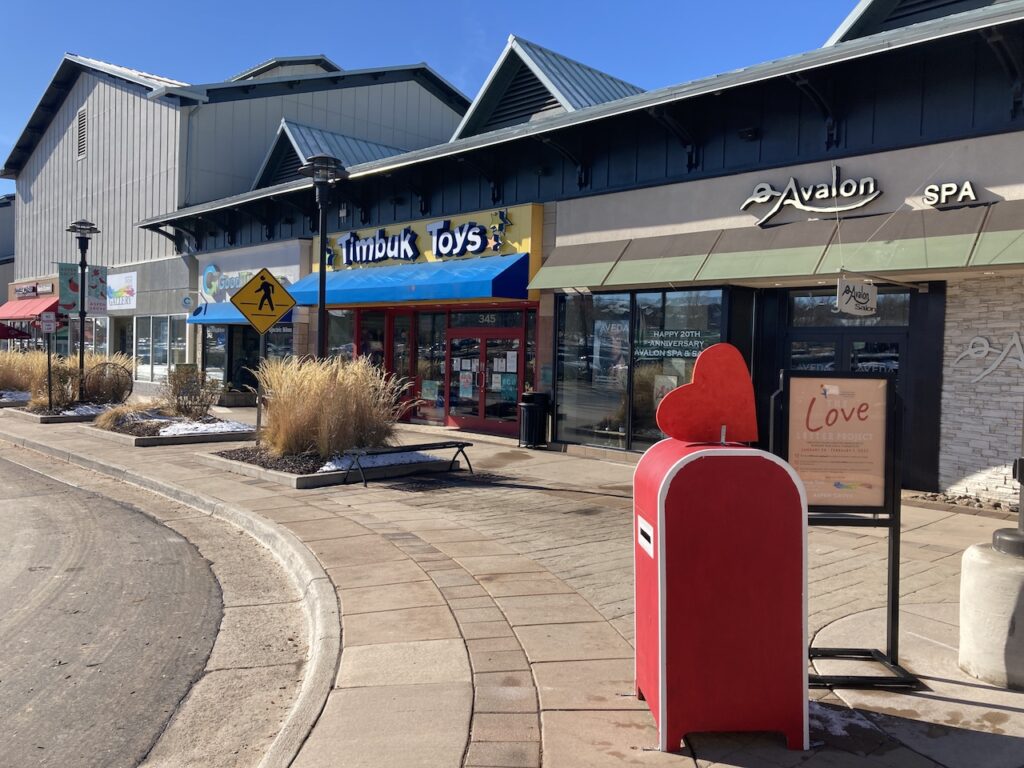 This year, Aspen Grove and Rox Arts Gallery will collect cards from January 24 through February 7 to support Children's Hospital Colorado at their south campus in Highlands Ranch (C470 and Lucent). To participate, simply create a special card and drop it off at Aspen Grove in the Red Love Letter mailbox. We will deliver them all to the hospital in time for Valentine's Day! Gather your friends, family, clubs, and organizations to join the project! Our goal is to create over 400 cards to reach every patient in the hospital!
CARD MAKING
1. Starting January 24, pick up a FREE card making kit from Rox Arts Gallery to get started, or make your own cards at home. (See below for tips on suggested messaging and decorating.)

2. Drop your completed card in the Love Letter Mailbox* located outside Avalon Salon and Day Spa.

3. All letters must be received by February 7 so we can get them to the hospital in time to be distributed for Valentine's Day!
WISH LIST
Children's Hospital also has an ongoing wish list of items that help make the children more comfortable during their stay. If you would like to donate an item, please see the list of suggested items below. Timbuk Toys will be collecting donated items and many are also available there for sale.
Directions for Aspen Grove, Rox Arts Gallery and Timbuk Toys: 7301 S. Santa Fe Drive, Littleton, CO 80120
Tips for Card Messaging and Decorating
Patients at Children's Hospital are here for a variety of reasons and we want to focus on messages of love and support without giving false hope or promises. Please keep the following in mind when writing your message and creating your cards.
We love kid-friendly jokes or poems like "Roses are red, ……" and anything related to Valentine's Day.
Please stay away from messages related to illness such as "Get well" or "Feel better."
Please do not include religious references.
We encourage use of crayons, markers and flat stickers.
Decorations should not include 3D objects – foam stickers or glitter, food items or candy.
Wish List Items
Items below are used for therapeutic play, education and reducing fear, anxiety and pain as well as normalizing the hospital experience and making special moments memorable for patients and families. Please keep in mind:
We can only accept brand new / never used items due to infection control guidelines
Items need to be in their original packaging.
We cannot accept toys that depict violence, i.e. guns, swords.
Infants/ toddlers, and adolescents are the age groups in the greatest need.
We also cannot accept the following items: food products, potted plants, latex balloons.